Lists from previous years:
2018 rolled by bizarrely fast but if you managed to squeeze in some good reads (or even bad ones) and they made you shriek or cry or laugh or had any impressive impact on you – then it was a good year! If you also have a list of your #BestReads2018, please feel free to share it in the comments! Book suggestions are always welcomed.
CRIME
Mindhunter: Inside the FBI's Elite Serial Crime Unit by John Edward Douglas
When Mindhunter came out on TV at the end of last year my Twitter feed was full of constant feedback on how amazing the show is, how chillingly creepy and precise it is, and true enough the show was phenomenal! But in all the back and forth talk hardly anyone mentioned the source of it, but nevertheless a quick Google search gave the desired results – a spectacular true crime novel that delves deep into the brutal realism of some of the most sadistic criminals of our time.
Obviously the book isn't up to anyone's taste – it does get graphic and even without photographic leads it is descriptive enough to allow a very detailed reconstruction to appear in one's head if one's imagination is… vivid enough I should say. John Douglas being the special agent who was central in implementing behavioral science and criminal profiling in the FBI's work process propelling it to a new age of crime fighting has a surprisingly solid storytelling skills – no wonder he was I believe the model for Jack Crawford in Thomas Harris works.
In this nearly 400-page novel the reader gets to not only follow through on more notorious serial crime cases in the US, but more importantly it allows a frightening gaze into a vast reasearch spanning multiple interviews and "confrontations" with serial killers of various capacities. In that sense "Mindhunter" is a remarkable study that aims to understand their motives, to showcase them to the general public – us the readers.  If you are in any way interested into these behavioral patterns in subjects such as Ed Kemper, Richard Speck and even Manson, I highly recommend this book as a starting point. It gets real.
FANTASY/SCI-FI/HORROR/HUMOR
Welcome to Night Vale by Joseph Fink & Jeffrey Cranor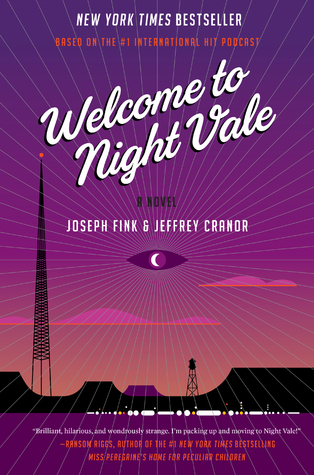 *swirls wine in glass, takes a sip, smacks lips loudly.* "The strange lights in the sky over the desert are mysterious in their bluish glow. What strange lights? I see no lights and therefore I am undisturbed."
And what a strange introduction. But this is charm in the "Welcome to Night Vale" fashion. It's without question a novel worth reviewing and a podcast worth listening to, or vice versa. However you feel like. But it's worth your time, your mental state and your erm…dreams and questioning of life and reality and all.
It's a novel rich in characters, healthy on the weird and scary and chockfull of delicious mindbending scenarios all of which are wrapped in a bubble about to burst, written in a delightful easy-going language that tickles you in places you like but feel weird about. It's damned good!
Be not mistaken – the novel has a plot that concerns two very special, very different and yet somehow similar women – Jackie Fierro and Diane Crayton. Between the two of them is…well its a very unending desert which has no name but in which Night Vale, a small town of weird proportions and happenings is situated. Between its streets and walls are angels called Erika, some aliens with their strange night lights, a pinch of ghosts, some overly creepy librarians and a shit ton of government conspiracies. Those are everyday normal things that occur and exist. What is not normal is another place called King City and a piece of paper that you just can't seem to get rid of no matter what you do. Oh and time-bending, reality-reshaping plastic flamingoes. Oh boy.
"Welcome to Night Vale" is unlike any novel I've ever read which is both disappointing and not, because otherwise I believe I wouldn't have been so amazed by it instantly. I easily took it to heart, embraced all the 'what the heck' moments and plot twists and radio intrusions into the narrative by Cecil, the voice of Night Vale.  For me it was insanely refreshing being well-humored but also weird and dark where it needed to be. The added fantasy and sci-fi elements mainly concerning time-travel and reality reshaping were an absolute joy. There are even many great quotes that stand out and can be taken out of context and applied to life and such:
"Remember that misuse of language can lead to miscommunication, and that miscommunication leads to everything that has ever happened in the whole of the world." 
"Comfort was the answer to all life's problems. It didn't solve them, but it made them more distant for a bit as they quietly worsened." 
"It was a fair question, although the problem with fair questions is that they are asked about an unfair world." 
And just so you could get a snipped of how wording goes in Night Vale:
"Librarians are hideous creatures of unimaginable power. And even if you could imagine their power, it would be illegal. It is absolutely illegal to even try to picture what such a being would be like." 
My recommendation: go check out the podcasts and read the novel. You'll get a weird sensation. But it spreads warmth, I promise.
*All quotes belong to Joseph Fink
COMICS/GRAPHIC NOVELS
The Arrival (2007) By Shaun Tan
Back in May I did a more detailed review of "The Arrival" and without a doubt it scores a place in this year's Best Reads list without actually having any written words inside its pages.
"The Arrival" explores the struggles of immigration through the heartbreaking story of a man parting from his wife and daughter as he boards a steamship across the ocean to find a better future for the three of them.
Very intimately through Shaun Tan's brilliant imagination and gorgeous pencil art we are invited to observe the man's exploration, his experience and struggles as he arrives in an unknown land of impossible proportions and architecture without the knowledge of the language and understanding of the local customs.
And the protagonist cannot communicate with the symbol language of the megalopolis, so can't  we as the reader. We are forbidden that luxury and so understand the isolation that builds for the man so far away from home. We begin learning with him, growing in this world and slowly becoming part of it. We are left with wordless art that speaks volumes.
You can read the full review of "The Arrival" and get quick access to some useful links and to Shaun Tan's website here.
Descender (2015 – 2018) By Jeff Lemire & Dustin Nguyen
Descender invites you to enter a universe where androids are a common element in people's daily lives, from companions to worker bots and so on. Of nine core planets that are under the rule of the United Galactic Council or UGC for short our attention is placed on Niyarata, the technological and cultural hub of the UGC, populated with over 5 billion people. Then, right from the get go an attack of colossal proportions takes place – a space invasion from gigantic robots called Harvesters, an unknown and unpredictable force.
Naturally people blame the androids for the death, destruction and anihilation that follows the massive attack. There's an open hunting invitation for all humans against the remaining numbers of robots. A young boy bot companion called TIM-21 is far away from the troubles of the planets. He has been asleep for the past 10 years on a small mining colony. And once he wakes up only to find everyone dead and the mines abandoned, the journey begins.
The art style is fucking amazing – the watercolor layer makes everything pop out and is really gorgeous to look at; the character models and world building, these huge, desolate landscapes and vast patches of space are simply beautiful – Dustin Nguyen has done and is doing an outstanding job of bringing to life visually pleasing faces and places  in a kind of old school way, it often just reminds me of older SF comics.
I highly recommend Descender. It is as I said a refreshing and of the times SF story inhabited by wonderful characters via a strong storytelling and a mystery still unfolding plus the cherry on top – its gorgeous to look at.
For my full review click here
The Books of Magic 1-4 (1990-1991)  By Neil Gaiman 
The Books of Magic give the starting point to Timothy Hunter's adventure in becoming, if he choses so, one of the greatest if not the greatest magician of his generation. As he is quite young and unaware of that possibility, four practitioners of magic take it upon themselves to introduce Tim to the capabilities, promises, dangers, opportunities and costs of magic.
If you are keen on magic but in its philosophical, transcendental, esoteric, ancient, powerful and dark visage and admire smart and elegant and through and through brilliant writing that's syphoning life-lessons on the backdrop of angels cascading flaming to earth, or Atlantis crumbling in the distance, or the universe and the stars being birthed, led by hierophant's and jackasses and occult figures without true names, then this is absolutely the mini-series for you. You even get Death telling you about that appointment in Samara. Well not with so many words. You know the one, right? There was a merchant in Bagdad…
Read the full review here!
Sandman Overture by Neil Gaiman & J.H. Williams III
For some people it has been twenty-five years since The Sandman first altered in ground breaking proportions the bone structure, the cosmic essence, the reality of modern comics. For others time has been more forgiving and the wait a lot shorter, but nevertheless, the mystery behind Dream's capture in Prelude & Nocturness is finally revealed between the pages of six gorgeous chapters.
Now a quick note: if you go back through the lists linked above you'll notice hardly a year goes by without some Gaiman in it, and it's painfully obvious I'm a huge fan. So, the reason behind me putting "The Sandman Overture" in this year's list is because I had some catching up to do with the original series and all the extra volumes, special editions, spinoff's before I could allow myself to read this wonderful beginning, original story, called it whatever you will.
My wait has been totally worth it! Not only is the art spectacular – the mix in artstyles, the cosmic explosion of colors and clever implementation of the chapter titles within the environment are just some of the aspects worth mentioning simply because they define the storytelling, the character's individual experiences, moods, thoughts so much it's incredible! The new illustrator J.H.Williams III together with Dave Stewart did an outstanding job in bringing to life a complex world by adding so much more life into it than it already had.  Gaiman goes back to his Sandman roots with the easy step of a ballet dancer but with the same heavy decision-making and fate-bearing flawed Dream we know and love since 89′. Although we have a glance at him before the events that lead to his *SPOILER* incarceration, we are allowed the special peek behind the curtain that semi-explains why Dream is who he is or what he is as we get to meet the Mother and Father of the Endless in their stripped of mortal affection relationship to each other and their children.
If you haven't read the original Sandman series I believe you should before even coming close to Overture – sure, it does kickstart Dream's journey, but it might tangle you in characters, behavioral patterns and world-view that would make your head spin. So take the long way round, read the original first, come to love or hate or both Dream and the Endless and then when your heart is possibly broken and you've attended a funeral or two and have invested yourself into the story so deeply it hurts, then gently crack open the hard covers of "Sandman Overture" and bask in its beauty!
Honorable mentiones: Naomi's Room by Jonathan Aycliffe;  Plutona By Jeff Lemire & Emi Lenox ; Signal to Noise by Neil Gaiman & Dave McKean
This does it for this years BestReads2018 list! I hope you got something new from it or remembered something old. Let me know what you read this year! Stay safe xx