Lists from previous years:
I hope you had a fantastic 2017 and that you read the best, the kindest, the scariest, funniest, saddest and most adventurous stories to your heart's content! If you have a list, please feel free to share it in the comments. Book suggestions are always welcomed.
FANTASY/SCI-FI
Ready Player One by Ernest Cline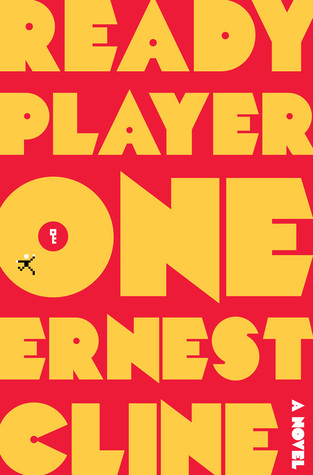 It's a somewhat weird moment when you find a book through a song but browsing through YouTube's forgotten hits of the 80's would do that for you it appears. Oingo Bongo's 'Dead Man's Party' had a top comment "Waiting for Anorak's invitation to arrive" and naturally I got curious what that references. I'm very glad I did because 'Ready Player One' was probably my favorite summer read.
It has a pinch of that teen romance gamers edition, but it runs alongside a deftly generated world (to think of one close reference, it's akin to what you can see in Sword Art Online for all you anime fans out there) geekish to bursting, chock-full of references, stretching out platforms to Japanese tv shows and cultural pop phenomenon's and of course paying a wonderful homage to everything 80's. And I loved that. I'm a big 80's enthusiast myself, music and movie wise, so those were 385 pages of sheer pleasure and geek-out.
All that is nicely layered on top of a dystopian future in which as a paradox opposing the societal degradation, endless possibilities exist built within what is a beastly virtual reality machinery in the face of a complex imagination-stretching world, or I should rather say universe, called the Oasis.
Throw into that mix some traditional RPG tropes, an adventure, a quest system worth billions and I think you end up with an entertaining story worth the read.
HISTORICAL/DYSTOPIAN
The Handmaid's Tale by Margaret Atwood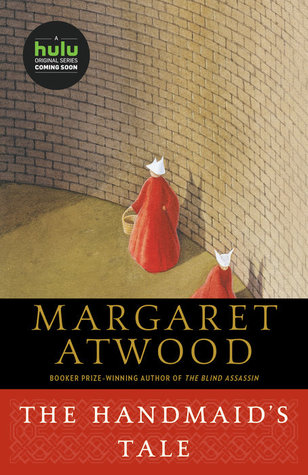 The most captivating aspect of this ageless dystopian novel is its protagonist's point of view storytelling. I'm sure there's no argument there. It's akin to time traveling within the narrative without the pressure of it being labeled as sci-fi or having need of machines and quantum mechanics. And it shakes you; it pulls you down and strips you naked and often takes your breath away.
It's kind of fitting reading it today and I'm certain we'll be reading it tomorrow and next year and at these different times we'll view it either as a dystopian, futuristic story, or as a historical artefact. It will be relevant at all times and it will be a pinnacle for many women as it has been thus far.
I was fascinated at how much nostalgia it carries and what strong attention it gives to these everyday "invisible" things and objects that serve as some sort of weird corner stones of our lives, of our understanding of modern and ownership. And then there's the interaction human to human, a frivolous act that can be difficult and anxiety burdened and that usually requires a non-linear and a vastly subconscious approach and it's destroyed in Atwood's work. It's brought down to absurdity. Can you imagine not having Offred's inner thoughts, her memories? Just those orchestrated interactions, dry and suspicious? You wouldn't even think about the layers of words and thoughts and fears that are quieted down behind "the right thing to say".
It's a fascinating novel and I strongly advise reading it.
HORROR/THRILLER
Bone White by Ronald Malfi
'Bone White' is a 2017 newbie but man, does it pack a punch! It's what I'd say a claustrophobic novel set within the coldest, most remote parts of Alaska. Malfi deftly handles what could easily be local lore, mythology and the supernatural elements mixing it with the sudden confession of a serial killer, the discovery of numerous unmarked graves, a town called Dread's Hand (which isn't a far stretch cause' Alaska has places called Red Devil, Holy Cross and Crooked Creek) and a man hell bent of finding what happened to his missing brother.
I loved' Bone White' and would have even if it didn't throw in the word 'wendigo'. As far as its wilderness exploration goes (and boy does it go far) it has that Algernon Blackwood flavor that I respect and love and fear but it does its own thing. I can't share the lore of it without spoiling major aspects but it's gut churning, skin crawling and worth delving into.
As with these types of novels where it's a whodunit mixed in with a supernatural fueled thriller, the ending doesn't disappoint. Far from it.
I highly recommend Ronald Malfi's 'Bone White'. It's certainly a high contender for best horror novel.
The Ritual by Adam Nevill
It's been years of bypassing anything Nevill and I blame 'Apartment 16'. Or maybe my mood at the time. Could be a mixture of both. But I had a hard time digesting his pacing until I gave 'The Ritual' a fair try.
Sure, at the start its all japes and grumbling and friendly banter but the atmosphere is tense right from the get go and it's a miserable one. The surrounding nature is nothing equal to that described by Blackwood for example with 'The Willows'. It's not a direct character per say, it's a nuisance, it's a labyrinth and it's a guide of sorts but it's not the subject of the character's direct fears. It's what within the woods.
What I love about 'The Ritual' is the sense of true expedition, though one gone horribly, horribly wrong. But the hike bears all the marks that make it believable – it's tiresome and treacherous and lonely. It however lacks that spiritual, cleansing, outdoorsy sensation and replaces it with the helplessness and hopelessness of disorientation, lack of communication and the feeling of trespassing. That on itself is terrifying and it progresses and escalates in terms of the narrative with the decreasing amount of provisions, the sustained injuries and the incessant battle with the unyielding nature. It's barren against the human spirit, a continuing isolation far, far from civilization and yet rather close to the wrong one.
I'm happy when a novel keeps me suspicious and cautious and I love it even more when it tweaks things to that disturbing level making you me uncomfortable. 'The Ritual' certainly did that. I enjoyed the lurking monstrosity, was pretty on terms with the gore part, but I was mostly a fan of that religious aspect of it, of the desolate, forgotten monuments, the Nordic runes hidden within the forest's folds. The decrepit filter on top of the base narrative is what really sold it to me. And of course the sudden shift from endless wandering and death to a very reminiscent of actual Scandinavian metal/riot history, part 2 of the book. That's when the true Ritual begins and when the novel really tests the reader. It's by far not the most disturbing or lacking humanity story I've read.
I mean there's 'Zombie' and many, many more all disturbing in their own fashion, but 'The Ritual' being the psychological horror that it is, kept me reading way into the early hours day after day. It urges to be progressed and thus served to give me a very different opinion on Nevill's work. He gave the novel a reality check on superstition, old, pagan beliefs and deities, brought them back under the sounds of death metal (black metal, doom metal any kind of worshiping metal. Rock on!) and he did it via Norwegian and Swedish lore risen together in an effigy of its own.
GRAPHIC NOVELS
The October Faction by  Steve Niles and Damien Worm
'The October Faction', a four-volume graphic novel is nothing particularly new on the drawn horizon, but its art done by Damian Worm is outstanding and the issues are worth checking just based on that.
It tells the story of the monster-hunting Allan family, semi-retired from the ghastly business until they are urged to get back in and this time include the children, who also possess certain abilities witching and warlocking being the main two. It's an adventure beautifully done in browns and blues, blacks and deep yellows and dried-blood reds, dealing with the price of hiding truths and feeding lies, of soul-seeing teens, homosexuality, coming of age, purpose in life and much more craziness.
It's the family business up-jumped aka popularized vastly by Supernatural but with refined finesse that in following issues expands and welcomes in a werewolf and a robot?
Nothing can suffice to convince to the worthy read so look at these pages I took the liberty of adding for viewing pleasure.
SHORT STORY COLLECTIONS    
 Fishing the Sloe-Black River by Colum McCann
Life is being far away from home, being alone, being weak, being loved. It's being afraid and caring about others. And when it's done like an Irish lullaby, well…it's something special. It's very human. It's stories you wished you knew yourself but then reading them in 'Fishing the Sloe-Black River' you feel like you might have been there.
There are a roulette of outstanding characters, quirky and bold, young and old. They each have unique stories.
'Sisters' and 'Around the Bend and Back Again' are favorites, I think. Tomorrow maybe others will be.
I wish you to read many more books in 2018 and share them with others. A single book can bring so much joy in someone's life.